Resources
General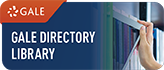 Search, sort, and export a variety of information from multiple premier directories. Best for researchers and marketers.
Select directories you want and make them available any time, from anywhere.
Explore this database of encyclopedias and reference sources within the Gale eBooks platform. For multidisciplinary research.
Enjoy unlimited access to top reference eBooks.
Explore thousands of topics across subjects including literature, science, history, and social issues using different sources.
An engaging student experience merges magazines, news, multimedia and more.