Primary Sources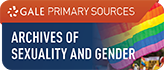 The Archives of Sexuality & Gender program provides a robust and significant collection of primary sources for the historical study of sex, sexuality, and gender. With material dating back to the sixteenth century, researchers and scholars can examine how sexual norms have changed over time, health and hygiene, the development of sex education, the rise of sexology, changing gender roles, LGBTQ culture, social movements and activism, erotica, and many other interesting topical areas.
LGBTQ History and Culture Since 1940 covers topics including LGBTQ activism and the HIV/AIDS crisis.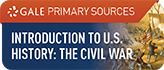 Sources in U.S. History Online is a series of archival digital collections intended for public library patrons as well as high school, community college, and university students. The Civil War digital collection contains nearly 500 significant documents of the time--personal narratives, monographs, regimental histories, collected essays, sermons, songs, legal tracts, and political speeches--enabling students, faculty and patrons to study one of the key events in American history.
Nearly 500 vital documents include narratives, regimental histories and songs.